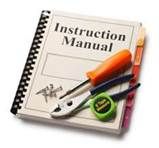 Consumers need the "how to" book in their hands when they purchase one of your products. Organizing your information into a manual is an effective way to communicate with your audience. You can incorporate everything from basic black and white copies to full-color inserts and transparencies to custom designed index tabs and binders.
Our quality assurance process and diverse finishing services will ensure your project is delivered right and on time—every time.
We can keep your manuals in stock for you and ship them when you need them - or you can use "just in time" inventory where you place an order and they are produced at your request. Either way - we are here for you.